saltiebeauty.com
DEEP MOISTURE VITAMIN MASQUE Enriched with Marine Botanical Vitamins and Minerals & Organic Coconut Oil 8 fl. oz / 250 ml
Maintain or repair your hair with Deep Moisture Vitamin Masque that bonds, repairs hair cuticles to reverse damage and reduce frizz leaving the moisturized, soft, and shiny.  Using this products once a week will reverse split ends and maintain healthy hair with less frizz and higher shine.  This intense formulas contains through the exclusive Marine Botanical Complex contains Sulphated Polysaccharides for antioxadants, Polyphenols to promote healthy scalp, B Complex Vitamins to promote scalp and hair health, Vitamin A, B1, B2, B6, C, E for stronger fuller hair, Niacin to improve hair thickness, Amino Acids to protect oxidative stress, Plant Proteins to repair cuticles and seal hair shafts, Minerals to strengthen hair follicles for increase volume, Iron to promote oxygen to scalp cells, and Zinc to promote healthy scalp cells. 
The unique botanical marine complex consisting of Sea Lichen Crustose Algae, Wakame Seaweed, Dulse Seaweed, Brown Seaweed, and Sugar Kelp nourishes the hair and scalp while providing powerful antioxidants, B Complex Vitamins, Amino Acids, Minerals and plant proteins.   Color safe formulas, Free of Sulfates, Parabens, gluten, phthalates, artificial color, and is cruelty free.  All Saltie Products are packaged in 100% Post Recycled Plastic bottles and jars saving our oceans and landfills from over 30 million plastic bottles sold each year.

Sale price

$21.99

Regular price
Title for additional description
include an additional description for your product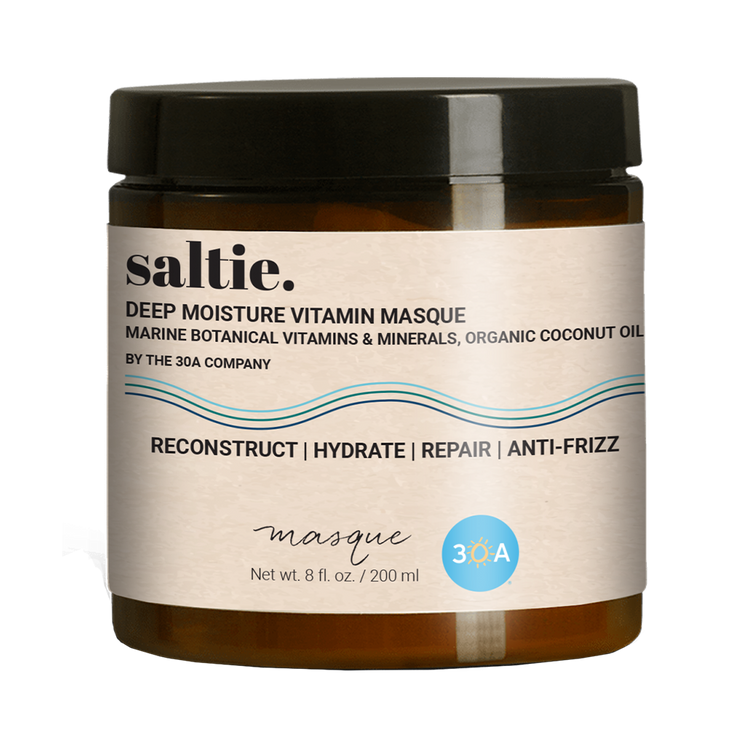 For instance collection name
Talk about your brand, collection or product
Products
I love the performance of Saltie 30A
The leave in conditioner is my favorite of all. It's a great cutting product!!
I "masque" ask you a question!
Have you tried hair masques with the hopes of healing, hydrating, and nourishing your hair only to be left with limp, slimy locks? I had given up on hair masques until I tried Saltie! I'm a balayage-bleach-blonde in a humid environment, so hair products have to do ALL the things! This masque is PHENOMENAL! My hair is nourished, shiny, CLEAN, and easy to style …AND, I am honestly able to go a few days without washing despite the humid and sticky environment I live in! YOU MUST GET THIS MASQUE - NO QUESTION ABOUT IT!
Incredible Masque
I'm a blonde, and I've worked in the beauty industry for 20+ years, and I can't say enough nice things about the masque! I'm a brunette who likes to pretend like she's blonde, and this masque makes my hair super manageable, and takes away all the tangles when paired with the leave in conditioner! LOVE!